2007: Armed churchgoing woman took out mass murderer who sought to "kill as many Christians as I can"
By Martin Hill
LibertyFight.com
June 19, 2015









On December 9, 2007, 24-year old Matthew J. Murray (pictured at right) began a 13-hour murder spree by killing two people and wounding two others at Youth With a Mission training center in Arvada, Colorado. He killed 26-year-old Tiffany Johnson and 24-year-old Philip Crouse. Murray also shot and injured Dan Griebenow, 24, and Charlie Blanch, 22.
Murray then escaped and evaded capture despite a massive police manhunt. Later that day, about 1pm, Murray showed up at New Life Church and continued his killing spree. He killed Stephanie Works, 18, Rachel Works, 16, and wounded David Works, 51, Judy Purcell, 40, and Larry Bourbonnais, 59.
Among Murray's weapons were a Semiautomatic pistol, an XM15 .223-caliber semiautomatic rifle, a Beretta .40-caliber semiautomatic pistol and a Springfield Armory 9mm semiautomatic pistol.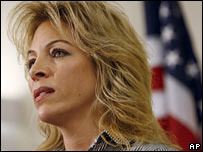 Churchgoer Jeanne Assam, (pictured at left) a former police officer and volunteer security guard, who was the church during the massacre, then shot Murray numerous times before he could kill any more innocents.
Wikipedia notes:
The 2007 Colorado YWAM and New Life shootings were a killing spree that occurred on December 9, 2007. In the early morning hours, 24-year-old Matthew J. Murray opened fire at the Youth With A Mission training center in Arvada, Colorado, with a pistol, killing two and wounding two others before escaping. Later that afternoon, he attacked the New Life Church in Colorado Springs, Colorado, with a number of firearms, killing two more people and injuring three before being shot and wounded by a member of the church's congregation; he then committed suicide.

Around 12:30 a.m. MST (07:30 UTC), following a Christmas banquet that had taken place earlier that night, a man knocked on the door of the Youth With a Mission center. The man asked personnel in the facility if he could stay at the center overnight. When he was refused, the man opened fire, killing Tiffany Johnson, the center's director of hospitality, and staff member Philip Crouse. Dan Griebenow was critically wounded with a bullet in his neck, and Charlie Blanch suffered bullet wounds to the leg.
At about 1:00 p.m. MST (20:00 UTC), thirty minutes after the 11:00 a.m. service had ended at New Life Church, Murray opened fire in the church parking lot, shooting the Works family and Judy Purcell. Murray then entered the building's main foyer where he shot Larry Bourbonnais, hitting him in the forearm. At this point, church member Jeanne Assam, a former Minneapolis police officer, opened fire on Murray with her personally owned concealed weapon. Police say that after suffering multiple hits from Assam's gun, Murray fatally shot himself.





After the New Life Church shooting, Assam later stated that "God guided me and protected me [and I] did not think for a minute to run away." ...On December 13, 2007, Murray's family issued a statement saying that it was "groping for answers" and issued an apology. The pastor of the church stated that Assam shot Murray before he entered 50 feet (15 m) inside the building, after she encountered him in the hallway, and that Assam probably saved "over 100 lives."[13]

The shooter - On December 10, the gunman in both the YWAM Arvada and New Life Church shootings was identified as Matthew J. Murray, age 24, one of two sons of a Colorado neurologist. Reportedly, Murray was homeschooled in a deeply religious Christian household, and he attended, but did not complete, a missionary training program at the YWAM Arvada facility in 2002.[5] Court records indicated that Murray was bitter over his expulsion from the 12-week missionary training program.[15][16] His expulsion from the school was confirmed by Cheryl Morrison, whose husband, George Morrison, is pastor of the Faith Bible Chapel adjacent to YWAM Denver. She didn't know specifics of the conflict. "I don't think that 'run-in' is the word, but they did have to dismiss him. It had to be something of significance, because they go the nth degree with people." Murray was expelled from the school due to "strange behavior," which included playing frightening rock music and claiming to hear voices. Before the second shooting, Murray left several violent and threatening messages on several religious websites, espousing his hatred for Christianity and his intentions on killing as many Christians as possible.





One message read: "I'm coming for EVERYONE soon and I WILL be armed to the ...teeth and I WILL shoot to kill. ...God, I can't wait till I can kill you people. Feel no remorse, no sense of shame, I don't care if I live or die in the shoot-out. All I want to do is kill and injure as many of you ... as I can especially Christians who are to blame for most of the problems in the world."

In another of his very last posts, made that morning to a Usenet newsgroup,[21] he identified himself as being a member of a local branch of the Ordo Templi Orientis. According to the chapter leader, Murray had attended their events for one or two years, but his request for membership was turned down[22] and he was asked to leave in either September or October. He was also baptized into the The Church of Jesus Christ of Latter-day Saints (LDS Church) in late 2006, according to church records. According to investigators, Murray descended into anti-Christian derangement over a period of several months, and his web-postings became increasingly violent, despondent and hateful. Some of the users tried to counsel Murray and one psychologist even offered her services after reading his poem called "Crying all alone in pain in the nightmare of Christianity." Murray refused her offer. After the killing, police found a letter addressed "To God" by Murray in his car. The letter was listed in an evidence and property invoice of items that Colorado Springs police recovered from a 1992 Toyota Camry belonging to Matthew Murray. The documents were obtained by Newsradio 850 KOA. The note to God was found in the rear passenger seat, along with two books: "I Had to Say Something" by Mike Jones and "Serial Murderers and Their Victims" by Eric W. Hickey, according to the invoice. In his online postings he cites psychological abuse at the hands of his parents as the main reason for his hatred of Christianity.

[LINK.]
BBC quoted Jeanne Assam, the Volunteer security guard as saying "It seemed like it was me, the gunman and God." Excerpt:
"Although we are grieving today for the loss of two lives, hundreds of lives were saved yesterday because of the plans that were set in place," Pastor Brady Boyd from New Life Church later said. ...Twelve hours after the first shooting Murray had opened fire in the car park and then walked into the huge church as the 7,000-strong congregation was filing out.

...Sisters Stephanie and Rachel Works, aged 18 and 16, were killed. Their father, David Works, was injured. At a press conference on Monday, Ms Assam explained that she had seen the gunman coming through the church doors. She said that she took cover, identified herself to him and then fired. "I took him down," she said. "It seemed like it was me, the gunman and God," she added.
[LINK.]
The Denver post reported, (excerpt)
Church shooter wanted to be missionary -Forensic evidence from the shooting at the church matches evidence found at Arvada's Youth with a Mission, a missionary training facility, scene of an earlier shooting spree that killed two others. Murray had once been enrolled there. Then Murray, who was armed with clips for 1,000 rounds of ammunition, and two hand guns, began firing an assault rifle in an corner of the parking lot. Sisters Stephanie, 18, and Rachael Works, 16, and their father, David Works, 51, were struck. Stephanie died at the scene, and her sister died later at Penrose Hospital. Their father was wounded in the abdomen and groin.

Assam, who also spoke at a Colorado Springs press conference this afternoon, said she saw Murray coming through the doors, and took cover. She then emerged and identified herself, "and I took him down." Assam fired as many as six rounds at Murray. Assam said she was praying to the "Holy Spirit" during the confrontation. It is not known if Assam's rounds killed Murray, said Colorado Springs police Sgt. Jeff Jensen. "She definitely wounded him but we don't know if she was the cause of the fatal wound. We don't know if there was a self-inflicted gunshot wound as well.

...Police found three weapons - the assault rifle, and two pistols, along with a backpack he carried containing ammo in clips. ...When Tiffany Johnson, 26, the hospitality director, told him he wouldn't be able to spend the night, he began shooting. Johnson and the other staffers were going to suggest alternative places for him to stay before they were gunned down, Cheryl Morrison, wife of Faith Bible Chapel's senior pastor said. ...Earlier today, a law enforcement official who spoke on condition of anonymity said it appeared Murray "hated Christians." ...Murray is the son of a local neurologist who is a prominent researcher on multiple sclerosis.

[LINK.]
5280.com featured an extensive profile of Jeanne Assam in 2012. Excerpt:
"Five years ago this month Jeanne Assam shot a gunman at New Life Church in Colorado Springs and saved countless lives. She was called a national hero and lauded by President George W. Bush. It looked as if her life would change forever. But before Assam could move forward, she first had to confront herself.

A few seconds after the first rifle blasts outside New Life Church in Colorado Springs, Jeanne Assam hears the screams. The shots continue outside a set of double glass doors in the snowy parking lot where one person is already dead. The noise gets progressively louder. Glass in one of the doors explodes. Then another. New Life serves more than 10,000 worshipers each week, and thousands of people are leaving the megachurch following Sunday service on December 9, 2007. Now, some of them are dodging bullets. A wave of panicked churchgoers bears down on Assam's position near the center of the church tentlike colossus rising from the 42-acre campus. Assam, in her second month as a volunteer for the church security team, is more than 100 yards from the exploding doors. Between her and the doorway are multiple hallways and classrooms filling with terrified people. 'Jeanne!' a security team member yells behind her. 'He's coming through the doors!'

Assam is 42, with blond hair and green eyes hidden behind mascaraed eyelashes. She wears a suit jacket and blue jeans. A cop by trade, Assam has found purpose these past months at this church. Quite literally, she believes it has saved her. She is newly born-again, zealous in her recently discovered faith. On this day, she planned to end a three-day fast and had already read her Bible before coming to work for the 11 a.m. service. Now, looking down the hallway, she pulls out the .9 millimeter Beretta tucked into the front of her jeans and begins sprinting through the crush of people running past her. There are more blasts at the doors. More people. More screams. Then, suddenly, nothing. The corridor is empty. People take cover in rooms; some are hiding in bathroom stalls. In the distance, Assam sees a man opening one of the doors. He's holding a weapon. The man moves slowly, deliberately. Assam can only think of one thing: I need to end this right now. She rushes toward a hallway to her right. She stands close to the wall, puts her Beretta at a low-ready position, and prays.





When she was young - a tomboy who preferred games of cowboys and Indians to ballet - Assam built a fort in her backyard. Four walls, no roof. She loved sitting in there. Just her, safe, looking up at the stars. In that fort, it was only her and God. Matthew Murray, a thin, 24-year-old man, is wearing blue earplugs, a flak jacket, kneepads, black lace-up boots, and a backpack as he walks up the corridor. He's holding a Bushmaster AR-style rifle. Murray also has two .9 millimeter handguns, and he's carrying at least 1,000 rounds of ammunition. He fires his weapon down the hallway, again and again. He is the plague who's come to wipe out those who have sinned against him.

From Assam's hiding place, the rifle shots are deafening. She can hear the man mumbling between rounds. He fires again. Assam is calm and alert. She wants to shoot the gunman when he passes, but it seems too risky. There's nowhere to run if he sees her first. God, please be with me, she thinks. Assam steps from behind the wall, gun stretched from her body. Murray is 20 yards away. 'Police officer!' she yells. 'Drop your weapon!'





The man jerks his rifle toward Assam. She fires five quick shots. Murray falls backward. Assam moves to the middle of the corridor and rushes forward. She's a few dozen feet from Murray now, exposed in the middle of the hallway. 'Drop your weapon, or I will kill you!' she yells. Murray sits up to face her. He's still holding the rifle. Boom-boom-boom. Bullets rip past her and pepper a wall. While Murray shoots, Assam fires three times. Through the haze of gun smoke, Assam sees the man struggling on the floor. He props his head against a wall. Her weapon is up, trained on the man. She sees his hands moving near his shoulder. He's trying to pull the pin on a grenade. He's going to kill everyone around here, Assam thinks. She instinctively steps back and fires two more shots.
[You can read the full article here: Jeanne Assam is Still Waiting.]

RELATED:
WRH Link: http://www.whatreallyhappened.com/content/2007-armed-churchgoing-woman-took-out-mass-murderer-who-sought-kill-many-christians-i-can-0.]
Martin Hill is a Catholic paleoconservative and civil rights advocate. His work has been featured in the Los Angeles Daily News, San Gabriel Valley Tribune, The Orange County Register, KNBC4 TV Los Angeles, The Press Enterprise, LewRockwell.com, WhatReallyHappened.com, Infowars.com, PrisonPlanet.com, Economic Policy Journal, TargetLiberty.com, FreedomsPhoenix, Haaretz, TMZ, Veterans Today, Jonathan Turley blog, The Dr. Katherine Albrecht Show, National Motorists Association, AmericanFreePress.net, RomanCatholicReport.com, WorldNetDaily, HenryMakow.com, OverdriveOnline.com, Educate-Yourself.org, TexeMarrs.com, Dr. Kevin Barrett's Truth Jihad radio show, Strike-The-Root.com, Pasadena Weekly, ActivistPost.com, Los Angeles Catholic Lay Mission Newspaper, KFI AM 640, IamtheWitness.com, Redlands Daily Facts, SaveTheMales.ca, BlackBoxVoting, The Michael Badnarik Show, The Wayne Madsen Report, Devvy.com, Rense.com, FromTheTrenchesWorldReport.com, BeforeItsNews.com, The Contra Costa Times, Pasadena Star News, Silicon Valley Mercury News, Long Beach Press Telegram, Inland Valley Daily Bulletin, L.A. Harbor Daily Breeze, CopBlock.org, DavidIcke.com, Whittier Daily News, KCLA FM Hollywood, The Fullerton Observer, Antiwar.com, From The Trenches World Report, and many others. Archives can be found at LibertyFight.com and DontWakeMeUp.Org.
---
FAIR USE NOTICE: The above may be copyrighted material, and the use of it on LibertyFight.com may not have been specifically authorized by the copyright owner. Such material is made available on a non-profit basis for educational and discussion purposes only. We believe this constitutes a 'fair use' of any such copyrighted material as provided for in 17 USC S. 107. For more information go to: http://www.law.cornell.edu/uscode/17/107.shtml. If you wish to use copyrighted material from this site for purposes of your own that go beyond 'fair use', you must obtain permission from the copyright owner.

You can follow LibertyFight.com on Twitter and re-tweet this article here.


NOTE: The 'DISQUS' feature has been added to this site so you can leave your comments below. No login is required, you can post as a guest.

comments powered by