Unique Christmas Message In Houston: "Bethlehem Like A Prison, Under Israeli Occupation"
By Martin Hill
LibertyFight.com
November 29, 2014







RELATED:


UPDATE: Rick Perry One-Ups Both Rand & Jeb, Does Crazy-Dance With Rabbis In the Street For Hanukkah
---
From the good folks in Houston who brought you the 'Stop Billions To Israel' Billboard Campaign comes a unique message for the Christmas Holiday Season: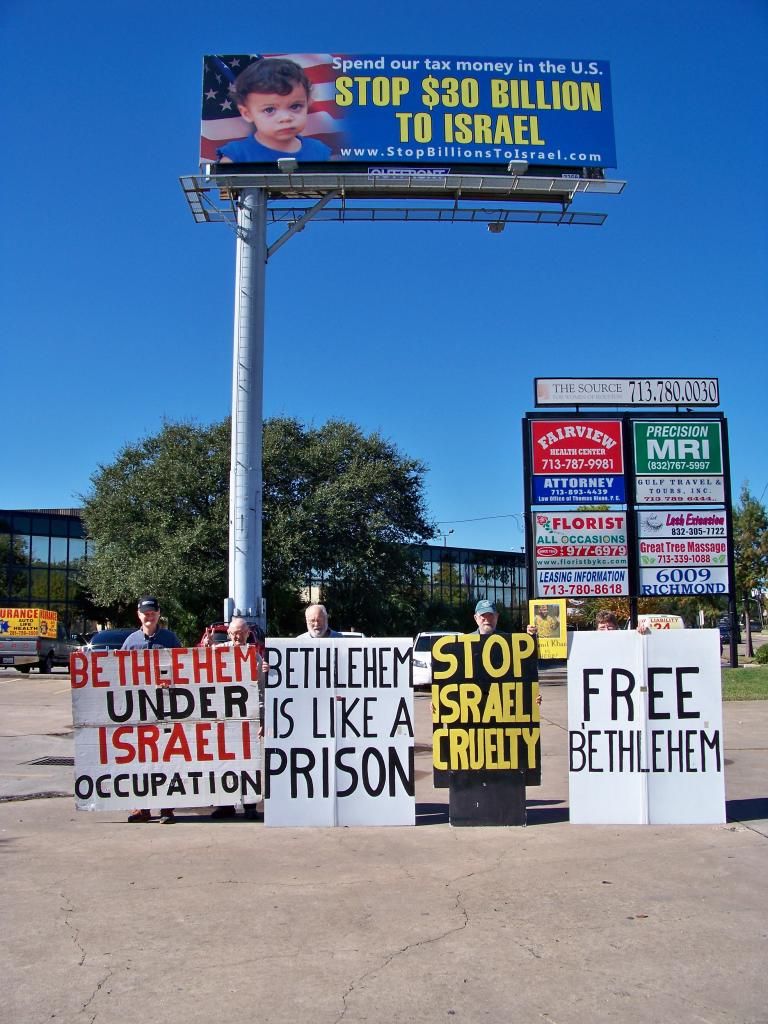 Along with the e-mail from the group was the following message:

PLEASE FORWARD WIDELY. YOUR CHRISTIAN FRIENDS NEED TO BE INFORMED.
Open 2 1/2 min. you tube. London built mock Bethlehem apartheid wall. Very interesting.


Have a blessed holiday season and Merry Christmas.

A New Christmas Story: Bethlehem under Occupation
"Separating Bethlehem from Jerusalem and the rest of the world, will not bring peace." (Roman Catholic Patriarch Fouad Twal). "In many ways Bethlehem has become the quintessential Palestinian city under occupation: its population confronted with daily abuse, its historic geography and landscape ruined by the expansion of illegal settlements, the serpentine Israeli Separation Wall cutting deep into its heart and severing it from its ancient political, social, economic and religious links to Jerusalem and the rest of the West Bank, and its economic prospects are further challenged with every passing year. For the Palestinians living in Bethlehem and its environs each Christmas has become less of a reason to celebrate than a cause to reflect on the immense tragedy that has befallen this holy city, which is home to one of the oldest Christian communities on Earth."
You can donate to the group for their billboard campaign at http://www.stopbillionstoisrael.com/
Earlier this month, activists also stood in front of the sign with messages of their own, such as 'Israel kills Palestinian children,' 'Your taxes support the killing,' 'Pray for Gaza,' 'Yes to BDS,' and 'Free Occupied Palestine.'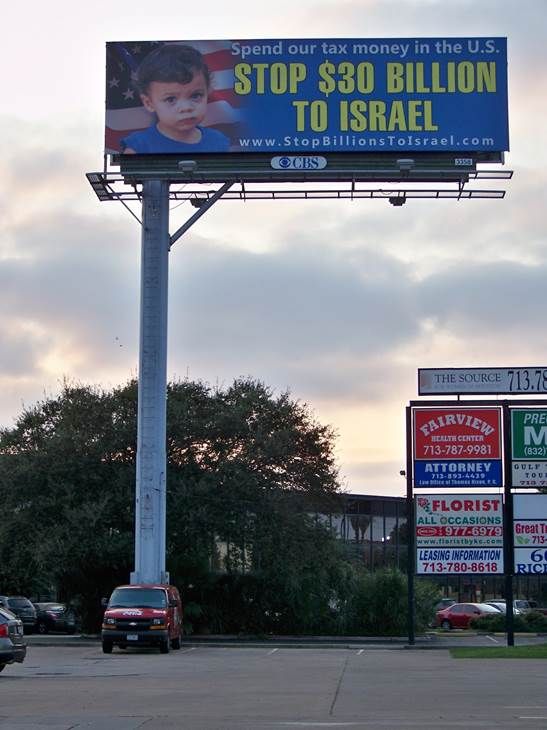 Houston has a long history of political activism and anti-Zionism. Four years ago, a Houston man's confrontation with George H.W. Bush at a pizza restaurant garnered international attention, drawing both accolades and criticism from viewers worldwide.
Greg Johnson, a local truth activist, was at a Houston Pizza place in January 2010 with friends when he had a chance encounter with the former CIA director and one term president. When he saw Bush coming in to Fuzzy's Pizza along with his Secret Service entourage, Johnson went out to his car to retrieve his videocamera. He took the once-in-a-lifetime opportunity to give the "so-called man" a "piece of his mind".
"You murderous Zionist piece of shit", Greg began on the video, which went viral when he posted it as a youtube clip entitled "How an old Bush can ruin a good lunch".
The incident and subsequent publicity prompted Fox News host Bill O'Reilly to demand Johnson's arrest. The Secret Service visited Johnson at his home the next day, despite the fact that no crime was committed. He videorecorded the interaction with the Secret Service at his front door and spoke with them briefly but refused to turn off his videocam, for his own protection. He reiterated that he was a peaceful man and was no threat to anyone, but the agents did not want to discuss anything at length on camera, so they left. The anti-war activist later commented on his youtube channel, saying "Thank you all for the overwhelming support! It means so very much to me. It is an honor to know I was speaking for millions around the world when I shared my disgust with the so-called man."

To add to the irony of running into Bush at a pizza place, Johnson encountered the ghouls again in April 2012. On Easter Sunday, 2012, Johnson was at the Houston Country Club having a holiday dinner with family when it became apparent that George and Barbara Bush were dining in an adjacent room. Johnson, at the time, released a narrative of what occurred in his e-mail list at HoustonTruth.org. "I was asked to leave the country club because I had words with the Secret Service outside of the room where Bush was sitting," he explained, after he told the men "You guys must be proud to be protecting a mass murderer."
In 2010, A Houston man who sent a Rice University professor a youtube link via e-mail in October was contacted by police investigators shortly thereafter. The video, entitled 'History They Don't Teach You in School', covers the history of false flag terrorism, Israeli Zionists, and Israeli involvement in the September 11, 2001 attacks. It was e-mailed to Rice University Jewish Studies professor Rabbi Shira Lander, Ph.D, after the man had seen fliers advertising her Jewish studies anti-semitism class. Rabbi Lander had also recently given a public lecture series on the same topic. The series, consisting of three consecutive lectures which were advertised as open to the public, were held in October of that year.
See Also:
Remember the guy who called George H. W. Bush a "murderous, Zionist, piece of shit" at a Houston Pizza place in 2010? This story is about him and what he's been up to lately: Jane's Addiction/Lollapalooza frontman Perry Farrell confronted on Bin Laden, 9/11 by pro-Palestinian 9/11 truther Grotesque mock baby-murder ritual plays out on stage while Zionist Farrell sings [Featured on Veterans Today.]

[Facebook does not allow links to my site. To post this article on Facebook, use this link: http://whatreallyhappened.com/content/unique-christmas-message-houston-bethlehem-prison-under-israeli-occupation#axzz3MHmhgglO.]


@JewWatchUSA Unique Christmas Message In Houston: "BethlehemLike A Prison, Under Israeli Occupation" http://t.co/d2EJzHP8Qo

— Martin (@LibertyFight) December 18, 2014



Martin Hill is a Catholic paleoconservative and civil rights advocate. His work has been featured in the Los Angeles Daily News, San Gabriel Valley Tribune, The Orange County Register, KNBC4 TV Los Angeles, The Press Enterprise, LewRockwell.com, WhatReallyHappened.com, Infowars.com, PrisonPlanet.com, Economic Policy Journal, FreedomsPhoenix, Haaretz, TMZ, Veterans Today, Jonathan Turley blog, The Dr. Katherine Albrecht Show, National Motorists Association, AmericanFreePress.net, RomanCatholicReport.com, WorldNetDaily, HenryMakow.com, OverdriveOnline.com, Educate-Yourself.org, TexeMarrs.com, Dr. Kevin Barrett's Truth Jihad radio show, Strike-The-Root.com, Pasadena Weekly, ActivistPost.com, Los Angeles Catholic Lay Mission Newspaper, KFI AM 640, IamtheWitness.com, Redlands Daily Facts, SaveTheMales.ca, BlackBoxVoting, The Michael Badnarik Show, The Wayne Madsen Report, Devvy.com, Rense.com, FromTheTrenchesWorldReport.com, BeforeItsNews.com, The Contra Costa Times, Pasadena Star News, Silicon Valley Mercury News, Long Beach Press Telegram, Inland Valley Daily Bulletin, L.A. Harbor Daily Breeze, CopBlock.org, DavidIcke.com, Whittier Daily News, KCLA FM Hollywood, The Fullerton Observer, Antiwar.com, From The Trenches World Report, and many others. Archives can be found at LibertyFight.com and DontWakeMeUp.Org.



You may contact me here.

ADDITIONAL ITEMS OF INTEREST:

MOST RECENT:



More links / Catholic Information:
---
FAIR USE NOTICE: The above may be copyrighted material, and the use of it on LibertyFight.com may not have been specifically authorized by the copyright owner. Such material is made available on a non-profit basis for educational and discussion purposes only. We believe this constitutes a 'fair use' of any such copyrighted material as provided for in 17 USC S. 107. For more information go to: http://www.law.cornell.edu/uscode/17/107.shtml. If you wish to use copyrighted material from this site for purposes of your own that go beyond 'fair use', you must obtain permission from the copyright owner.