Homeland Security Snares Dude with $1.5 Million in his rented SUV driving from Pennsylvania to Calif.
By Martin Hill
LibertyFight.com
January 21, 2015









The U.S. Department of Homeland Security issued as press release today about a big-time drug runner. They seized his home, vehicles, cash, artwork, and dope; including $1.5 million from a rented SUV travelling from PA to CA and also $2.1 million dollars cash in a fishtank!

The DHS announcement stated, in part:
"Homeland Security Investigation (HSI) Philadelphia special agents seized nearly $1.2 million in cash from large-scale drug trafficker's rental vehicle as it headed from Pennsylvania to California. Ronald Belciano received more than 5 years in federal prison for money laundering and drug trafficking. Bottom: About $2.4 million was found hidden in the fish tank at the Villanova residence of large-scale drug trafficker Ronald Belciano's home. He received 63 months in federal prison for drug trafficking and money laundering.

More than $5 million in cash and assets were seized during the investigation of large-scale drug trafficker Ronald Belciano, age 42, of Newtown Square (formerly Villanova), Pennsylvania. He was sentenced Tuesday to 63 months in prison by a federal judge in Harrisburg, Pennsylvania, for conspiracy to distribute 100 kilograms of marijuana in and through central Pennsylvania and conspiracy to commit money laundering between December 2007 and November 2011.

In 2011, Belciano rented a vehicle and filled it with nearly $1.2 million. He paid a co-conspirator to drive it from Pennsylvania to California to pay for marijuana grown on Belciano's 190-acre property and to purchase from other growers in Northern California. HSI special agents obtained a search warrant for one of Belciano's homes, located in Villanova, Pennsylvania, and found another nearly $2.6 million in cash along with 1.5 kilograms of marijuana.

Special agents working with other law enforcement later located 68 kilograms of marijuana, $316,800 in U.S. currency and 59 paintings valued at more than $600,000 in a storage locker as well as at a co-conspirator's farm in Douglasville, Pennsylvania, used to warehouse and distribute the marijuana transported from California to Pennsylvania. Belciano was indicted by a grand jury in November 2011 and pleaded guilty in February 2014.

The assets seized and forfeited in this case included: his Villanova residence; a 190-acre property in Laytonville, California; artwork obtained with proceeds of the illegal activity and later appraised at over $619,000; and $4,084,060 in U.S. currency.

"Today's sentencing concludes a long-term investigation on a drug trafficker who was living on the Main Line of Philadelphia," said John Kelleghan, HSI Philadelphia special agent in charge.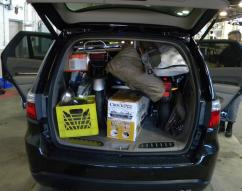 You can read the entire press release here.
[Facebook does not allow links to my site. To post this article on Facebook, use this link: http://whatreallyhappened.com/content/homeland-security-snares-dude-15-million-his-rented-suv-driving-pennsylvania-calif#axzz3PQhaWOJ6.]
You can follow LibertyFight.com on Twitter and re-tweet this article here.

Martin Hill is a Catholic paleoconservative and civil rights advocate. His work has been featured in the Los Angeles Daily News, San Gabriel Valley Tribune, The Orange County Register, KNBC4 TV Los Angeles, The Press Enterprise, LewRockwell.com, WhatReallyHappened.com, Infowars.com, PrisonPlanet.com, Economic Policy Journal, TargetLiberty.com, FreedomsPhoenix, Haaretz, TMZ, Veterans Today, Jonathan Turley blog, The Dr. Katherine Albrecht Show, National Motorists Association, AmericanFreePress.net, RomanCatholicReport.com, WorldNetDaily, HenryMakow.com, OverdriveOnline.com, Educate-Yourself.org, TexeMarrs.com, Dr. Kevin Barrett's Truth Jihad radio show, Strike-The-Root.com, Pasadena Weekly, ActivistPost.com, Los Angeles Catholic Lay Mission Newspaper, KFI AM 640, IamtheWitness.com, Redlands Daily Facts, SaveTheMales.ca, BlackBoxVoting, The Michael Badnarik Show, The Wayne Madsen Report, Devvy.com, Rense.com, FromTheTrenchesWorldReport.com, BeforeItsNews.com, The Contra Costa Times, Pasadena Star News, Silicon Valley Mercury News, Long Beach Press Telegram, Inland Valley Daily Bulletin, L.A. Harbor Daily Breeze, CopBlock.org, DavidIcke.com, Whittier Daily News, KCLA FM Hollywood, The Fullerton Observer, Antiwar.com, From The Trenches World Report, and many others. Archives can be found at LibertyFight.com and DontWakeMeUp.Org.
---
FAIR USE NOTICE: The above may be copyrighted material, and the use of it on LibertyFight.com may not have been specifically authorized by the copyright owner. Such material is made available on a non-profit basis for educational and discussion purposes only. We believe this constitutes a 'fair use' of any such copyrighted material as provided for in 17 USC S. 107. For more information go to: http://www.law.cornell.edu/uscode/17/107.shtml. If you wish to use copyrighted material from this site for purposes of your own that go beyond 'fair use', you must obtain permission from the copyright owner.
You may contact me here.

ADDITIONAL ITEMS OF INTEREST:

LibertyFight.com Classics:
Zio-Randy:
FREEMASONRY:
More links / Catholic Information: