"Spattered By Iraeli Gunfire": National Security Agency (NSA) Posts Vintage Photos of the USS Liberty On Their Website
By Martin Hill
LibertyFight.com
October 18, 2015










The NSA National Security Agency, (in years past jokingly referred to as "no such agency,") includes twenty-eight declassified photos of the USS Liberty attack on their official website.

Captions for the photos include such titles as "Spattered by Isreali Gunfire," "Ships Bridge was Clobbered," "Shock Damage Above Torpedo Hit," CDR McGonagle Israeli Bullet, CDR and Staff Confer Post-attack, USS Liberty in Drydock, USS Liberty Main Blast Area, USS Liberty Pierside Malta, USS Liberty Primary Blast Area, Clean-up Operations of Blast Area, Damaged Machine Gun Mount Damaged Signal Light on Bridge, and Fire Damage Port Side Amidships."

Here are some of the photos:





Ship's Bridge Was Clobbered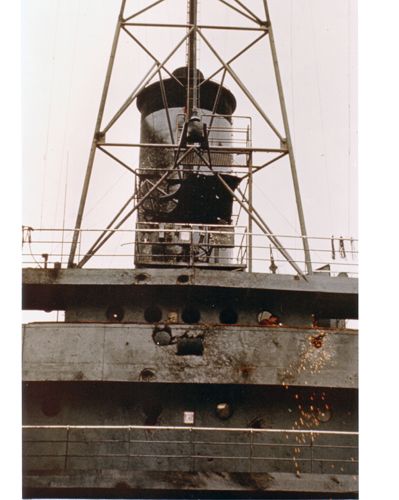 Spattered By Ireali Gunfire [Note that the misspelling of Israeli as 'Isreali' is in the NSA caption, not mine.]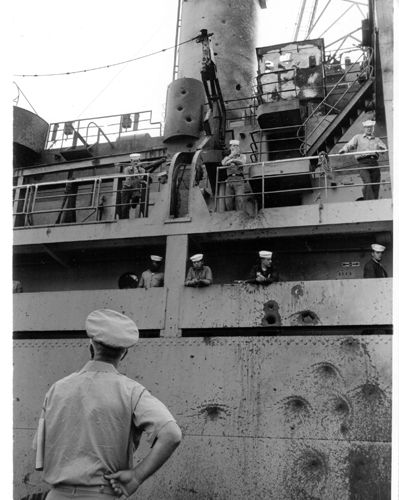 CDR McGonagle Israeli Bullet

USS Liberty in Drydock

USS Liberty Main Blast Area

USS Liberty Pierside Malta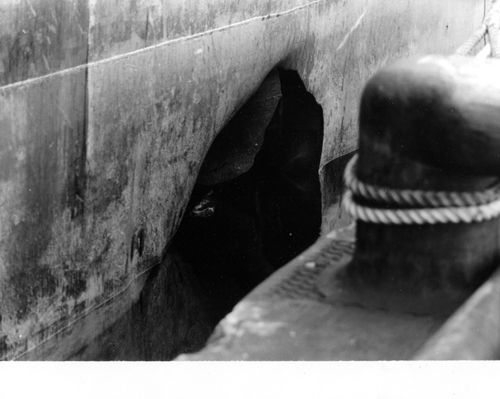 USS Liberty Primary Blast Area







The NSA website states: "Please Note: These historical documents are PDF images of formerly classified carbon paper and reports that have been declassified. Due to the age and poor quality of some of the PDF images, a screen reader may not be able to process the images into word documents. In accordance with Section 504 of the Rehabilitation Act of 1973, as amended, individuals may request that the government provide auxiliary aids or services to ensure effective communication of the substance of the documents. For such requests, please contact the Public Affairs Office at 301-688-6524.

[LINK: https://www.nsa.gov/public_info/declass/uss_liberty/photos.shtml.]


RELATED:




NOTE: The 'DISQUS' feature has been added to this site so you can leave your comments below. No login is required, you can post as a guest.










Martin Hill is a Catholic paleoconservative and civil rights advocate. His work has been featured in the Los Angeles Daily News, San Gabriel Valley Tribune, The Orange County Register, KNBC4 TV Los Angeles, The Press Enterprise, LewRockwell.com, WhatReallyHappened.com, Infowars.com, PrisonPlanet.com, Economic Policy Journal, TargetLiberty.com, FreedomsPhoenix, Haaretz, TMZ, Veterans Today, Jonathan Turley blog, The Dr. Katherine Albrecht Show, National Motorists Association, AmericanFreePress.net, RomanCatholicReport.com, WorldNetDaily, HenryMakow.com, OverdriveOnline.com, Educate-Yourself.org, TexeMarrs.com, Dr. Kevin Barrett's Truth Jihad radio show, Strike-The-Root.com, Pasadena Weekly, ActivistPost.com, Los Angeles Catholic Lay Mission Newspaper, KFI AM 640, IamtheWitness.com, Redlands Daily Facts, SaveTheMales.ca, BlackBoxVoting, The Michael Badnarik Show, The Wayne Madsen Report, Devvy.com, Rense.com, FromTheTrenchesWorldReport.com, BeforeItsNews.com, The Contra Costa Times, Pasadena Star News, Silicon Valley Mercury News, Long Beach Press Telegram, Inland Valley Daily Bulletin, L.A. Harbor Daily Breeze, CopBlock.org, DavidIcke.com, Whittier Daily News, KCLA FM Hollywood, The Fullerton Observer, Antiwar.com, From The Trenches World Report, and many others. Archives can be found at LibertyFight.com and DontWakeMeUp.Org.
---
FAIR USE NOTICE: The above may be copyrighted material, and the use of it on LibertyFight.com may not have been specifically authorized by the copyright owner. Such material is made available on a non-profit basis for educational and discussion purposes only. We believe this constitutes a 'fair use' of any such copyrighted material as provided for in 17 USC S. 107. For more information go to: http://www.law.cornell.edu/uscode/17/107.shtml. If you wish to use copyrighted material from this site for purposes of your own that go beyond 'fair use', you must obtain permission from the copyright owner.

You can follow LibertyFight.com on Twitter and re-tweet this article here.


RECENT FROM LibertyFight.com:

Front-Row Protester Disrupts Trump's Michigan Speech with "ISRAEL DID 9/11! FIVE JEWS ARRESTED ON 9/11 IN NEW JERSEY, NOT MUSLIMS." Donald Trump Responds To "ISRAEL DID 9/11" Protester With "He's A Trump Guy, He's very committed, Got a lot of energy, He's on our side" (!!!)



Trump's Response To "Israel Did 9/11" Front-Row Heckler Is Almost More Interesting Than The Heckle Itself TV News Footage Of Martin Hill Being Escorted Out By Secret Service While Trump Stops His Speech To Watch & Repeatedly Tells Them "Don't Hurt Him, Be Very Nice..."

HERE IS THE CLOSE-UP VERSION. GO TO MINUTE 20. Trump says that the "Israel Did 9/11' Protester is "A Trump Guy, He's On Our Side, He's Very Committed, he's Got a lot of energy."



Here is the wide-shot footage from the back of the room. If you watch starting at around minute 20, That's when I interrupt him, and he responds to me. Then a few minutes later, he stops his speech again to watch the Secret Service take me out, and he is referring to me when he says: [21:18] Oh! Don't hurt him. Don't hurt him. Be very nice. Be very nice. Yep. Be nice to him. Don't hurt him. See how nice I'm being? I'm only doing it for them, you know that (points to the media) Don't hurt him! (21:34) Tell me, ... I love you too, maam.. Look. Is there more fun than a Trump rally? (21:48) Is there more fun?



comments powered by




RELATED ARTICLES FROM LibertyFight.com: