Trump's Response To "Israel Did 9/11" Front Row Anti-Zionist Heckler (WRH Member) Is Almost More Interesting Than The Heckle Itself
UPDATE: New Footage Found Of Martin Hill Being Escorted Out By Secret Service While Trump Stops His Speech To Watch & Repeatedly Tells Them "Don't Hurt Him, Be Very Nice..."
By Martin Hill
LibertyFight.com
December 23, 2015




Related:





"Even to the death fight for truth, and the LORD your God will battle for you". Sirach 4:28

UPDATE 12/24/15: I found new video! I accidentally came across a different version of the video where it actually shows me being removed by Secret Service, and where Trump takes about another minute out of his speech to watch them take me out, as he tells them not to hurt me and to be nice to me. See details and the two videos below. One shows Trump up close as he reacts to me, and the second shows a wide angle shot from the back of the room. The wide angle version is the one where you see the Secret Service going towards the front of the crowd to get me, and then they take me out.
---
Below is the video of me confronting Trump at the Grand Rapids Michigan rally on Monday, Dec. 21, 2015. Below that are the two videos from South Carolina on 12/12/15 weeks prior where I questioned him, and then confronted him about the Dancing Israelis.
Last night I found a news video that showed Trump's entire speech and his reactions to me. The people in the front row, including me, could not hear any of this at the time. As it was happening, I did hear him say that "he's on our side." I was surprised at that and at the rest of what Trump said.
So I'm shouting at the top of my lungs five feet away from Trump "HEY- YOU LISTEN TO ME TRUMP! ISRAEL DID 9/11, YOU GOT IT TRUMP? FIVE JEWS WERE ARRESTED IN NEW JERSEY, NOT MUSLIMS. ISRAEL DID 9/11! THE DANCING ISRAELIS!" And he stops his speech, listens to me, and replies "He's all right. He's okay... He's very committed, He's got a lot of energy. He's on our side," along with saying "relax" about a dozen times. LOL! Funny stuff!
The news footage video below shows the whole speech, and all of the remarks that Trump is making about me as I am shouting. I find Trump's remarks VERY interesting.
Keep in mind, to several of the other protesters who disrupted his speech that very same night, Trump called them 'Losers,' 'weak,' and 'get them out of here.' But me, he said I could stay.
WHY?
I also want to credit Mike Rivero of WhatReallyHappened.com with the inspiration, education, and entertainment of his radio show over the years - from Mike I've learned a lot. Mike has also linked to my work for years on his site, long before I was ever a member. I greatly appreciate that. Donate to WRH today and Keep up the great work Mike & Claire! Merry Christmas.
Here is the news video. Go to minute 20. Transcript:
"He's all right. He's okay. Relax. Relax.
Relax. Take it easy.
He's very committed
Relax.
He's actually a Trump guy, he's just,
got a lot of energy
Okay. Shhh.
(Trump then puts index finger to mouth, making symbol to sshhh!)
"Okay, sit down. Come on.
Relax.
Relax.
He's on our side.
Who would know it, but he's on our side.
I think." [End 20:46.]
Here is the close-up version:
FULL Event: Donald Trump Speaks To Fired Up Crowd In Grand Rapids, MI (12-21-15)


Here is the wide-shot footage from the back of the room. If you watch starting at around minute 20, That's when I interrupt him, and he responds to me. Then a few minutes later, he stops his speech again to watch the Secret Service take me out, and he is referring to me when he says:
[21:18] Oh!
Don't hurt him.
Don't hurt him.
Be very nice.
Be very nice.
Yep.
Be nice to him.
Don't hurt him.
See how nice I'm being?
I'm only doing it for them, you know that (points to the media)
Don't hurt him! (21:34)
Tell me,
... I love you too, maam..
Look.
Is there more fun than a Trump rally? (21:48)
Is there more fun?

FULL Event: Donald Trump Speaks To Fired Up Crowd In Grand Rapids, MI (12-21-15)

Streamed live on Dec 21, 2015
GOP Presidential candidate Donald Trump held a campaign rally in Grand Rapids, MI at Deltaplex Arena & Conference Center. Mr. Trump spoke to thousands of fired up supporters and was interrupted countless times by protesters.
For full details on how I pulled this off twice in a row, (it's actually very interesting) see this article: Just to let you know, I do this for religious reasons. I am Roman Catholic, and I believe this is literally a battle between good vs evil, God versus satan. God bless you and our families, and have a blessed, Merry Christmas. Viva Cristo Rey! (Long Live Christ the King.)
Feel free to browse My Catholicism archives, my Zionism archives, my Freemasonry page, my eugenics page, and my most recent article page (full archive.) I have two other sites also. RandPaulZionist.com and DontWakeMeUp.org.
[Full details here: Front-Row Protester Disrupts Trump's Michigan Speech with "ISRAEL DID 9/11! FIVE JEWS ARRESTED ON 9/11 IN NEW JERSEY, NOT MUSLIMS." 12/22/15 .]
Nearly four years after I broke the story on the failed Dancing Israeli lawsuit, it still gets a huge amount of traffic daily, including many government agencies; for example, just a few days ago the U.S. Department of Justice visited. Notice that the DOJ clicked the link was to watch the youtube video 'History they don't teach you in school,' about the history of Israeli false-flag terrorism. Funny stuff. Here is the link and a screenshot their ISP logs. "Dancing Israelis" Arrested On 9/11 Later Sued The Govt, But Lost Their Case [Featured on Infowars.com.]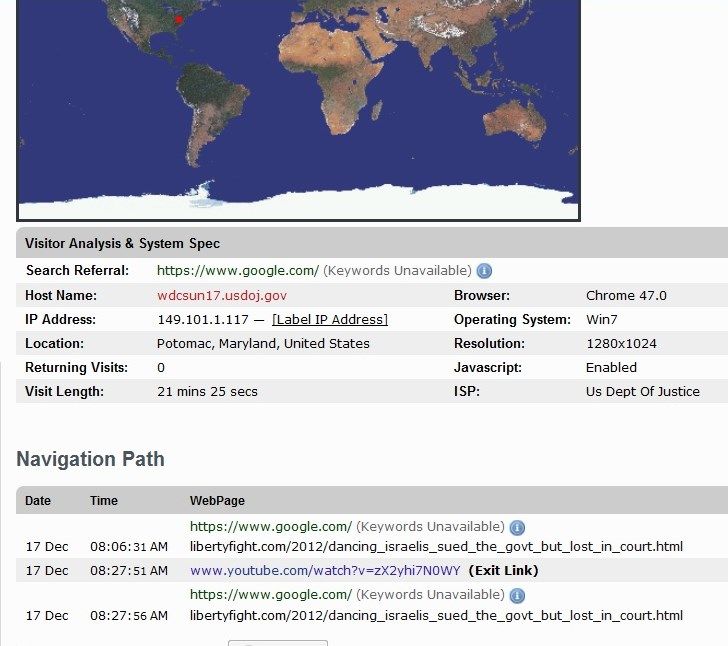 I spoke to Donald Trump a few weeks ago at a South Carolina rally about the undue influence of the Israeli lobby, but my camera screwed up & didn't record the best part. That REALLY pissed me off, (you can't imagine how much), and I was determined to do it right.This time, I wasn't going to let that happen again. [See Trump Confronted On Dancing JEWISH ISRAELIS, NOT Muslims 12/12/15 Trump's Secret Service Agent Says "Let's Not Get Everyone Riled Up Okay?" in South Carolina..]

Watch the video here:

This is the part 1 video from the South Carolina rally on 12/12/15, that got cut off at :34 seconds. [Full story here. Trump shakes my hand and is signing my Trump bumper sticker when the space on the phone ran out. ;-(

RIGHT AT THE END you can hear me say "Mister Trump"... it gets cut off right there, and then I asked him my question about he undue influence of the Israeli lobby.





Here is part 2 of the video, when the Secret Service agent comes up to me. I would give it an A for effort. ;-) . This Secret Service guy is the same guy who assaulted me on 12/21 and started cussing at me when I mentioned Israel.


WRH Link: http://whatreallyhappened.com/content/front-row-protester-disrupts-trumps-michigan-speech-israel-did-911-five-jews-arrested-911-ne

Most Revent Articles From LibertyFight.com

LibertyFight.com Zionism Archives

LibertyFight.com Catholicism Section
Martin Hill is a Catholic paleoconservative and civil rights advocate. His work has been featured in the Los Angeles Daily News, San Gabriel Valley Tribune, The Orange County Register, KNBC4 TV Los Angeles, The Press Enterprise, LewRockwell.com, WhatReallyHappened.com, Infowars.com, PrisonPlanet.com, Economic Policy Journal, TargetLiberty.com, FreedomsPhoenix, Haaretz, TMZ, Veterans Today, Jonathan Turley blog, The Dr. Katherine Albrecht Show, National Motorists Association, AmericanFreePress.net, RomanCatholicReport.com, WorldNetDaily, HenryMakow.com, OverdriveOnline.com, Educate-Yourself.org, TexeMarrs.com, Dr. Kevin Barrett's Truth Jihad radio show, Strike-The-Root.com, Pasadena Weekly, ActivistPost.com, Los Angeles Catholic Lay Mission Newspaper, KFI AM 640, IamtheWitness.com, Redlands Daily Facts, SaveTheMales.ca, BlackBoxVoting, The Michael Badnarik Show, The Wayne Madsen Report, Devvy.com, Rense.com, FromTheTrenchesWorldReport.com, BeforeItsNews.com, The Contra Costa Times, Pasadena Star News, Silicon Valley Mercury News, Long Beach Press Telegram, Inland Valley Daily Bulletin, L.A. Harbor Daily Breeze, CopBlock.org, DavidIcke.com, Whittier Daily News, KCLA FM Hollywood, The Fullerton Observer, Antiwar.com, From The Trenches World Report, and many others. Archives can be found at LibertyFight.com and DontWakeMeUp.Org.
Visit the LibertyFight.com Trump Data Page: Donald Trump and the Five Jewish Israelis Arrested In New Jersey For Cheering and Dancing On 9/11/2001
comments powered by