All Hell Breaks Loose In Jack Yantis Case: Idaho Law Enforcement Issues *USE EXTREME CAUTION* Statewide Alert For Deputy Who Killed Jack Yantis
According To The Law Enforcement Alert, Deputy Brian Wood Has Access To Explosives, Was Involved in Domestic Violence, 'Has Become Increasingly Unstable,' Is Separated from wife, Has Frightened His In-Laws. Wood told Adams County Sheriff Office "If cops get involved, shots will be fired."
By Martin Hill
LibertyFight.com
May 6, 2016







UPDATE: 'Fringe' Website LibertyFight.com Breaks Truth Wide Open In Leak of Secret Internal Police Memo, Sheriff's Dept. 'Frustrated'

Establishment corporate media were forced to cover the release of a secret leaked police memo yesterday, after the LibertyFight.com expose on the matter went super-viral worldwide in a matter of moments. In response, Sheriff Ryan Zollman claimed that the memo was "old news," after hiding it from the public for nearly four months. In reality the 'Officer Safety' Notice, issued by the Ada County, Idaho Crime Analysis Unit last January, was not 'old news' to the public at all. On the contrary, it was brand new news, because no one ever told the public about it. It's very significant news, which is why the corporate media was forced to immediately pick it up, as well as channel 7 TV news in Idaho, which ran a breaking 6PM news story on it last night. According to channel 7, the Ada County sheriff's Dept. was "frustrated" over the leak of the confidential memo, which police officers are supposedly forbidden to release. The document revealed that killer cop Brian Wood was 'increasingly unstable,' had guns, 'access to explosives,' was involved in domestic violence, and threatened "If cops get involved, shots will be fired." [Read full article here.]
UPDATE #2: State Of Idaho Was Googling Deputy "Brian Wood Facebook Post" On January 23, 2016 - Day After Secret Cop Memo 5/7/16
UPDATE #3: New Slogan For Adams County Sheriff To Adorn All Patrol Vehicles
""We like to be sensitive to the community, and share our core values," said a spokesman. "All of the vehicles have been thoroughly detailed, cleaned, and even all the blood stains removed, as best as possible, anyway. We think that in the spirit of transparency, our new theme will be a perfect fit!" Three of the department's best were photographed on patrol, with the new vehicle slogan last week.
UPDATE #4: Jack Yantis Killer Deputy Brian Wood Responds To Secret Police Memo 5/9/16
UPDATE #5: 7/29/16: Idaho Attorney General: No Charges against Deputies Who Killed Jack Yantis
Law enforcement in Idaho has issued a 'LAW ENFORCEMENT SENSITIVE' internal document known as an "ATL" - attempt to locate - Brian Wood, one of the deputies who killed 62-year-old rancher Jack Yantis on November 1, 2015. LibertyFight.com has obtained a copy of this three page document.
Brian Wood, pictured below, is an FBI-Trained Sniper, who was previously sued for roughing up a 79-year-old man.

Ada County Sheriff's Office Crime Analysis Unit issued an "OFFICER SAFETY/ EXTRA PATROL" notice, also marked 'LES: Law Enforcement Sensitive.'
The document states:
"ACCORDING TO ADAMS COUNTY SHERIFF OFFICE, Brian Wood has become increasingly unstable in recent weeks.. Brian Wood is one of the Adams SCO Deputies involved in the recent officer Involved shooting in Council. ACSO (Adams County Sheriff Office) advised Wood and his wife are separating and there have been recently reported Domestic Violence issues in the Home. During a conversation with Adams CSO, Wood advised "If cops get involved, shots will be fired." On 01/20/16 Wood was observed collecting guns from a fifth-wheel trailer on sister-in-laws property. Since that time, Wood's whereabouts are unknown. Adams CSO stated Wood claims to have access to explosives. Wood's in-laws currently reside in Meridian (info above) and have requested extra patrol due to statements from Woods that they are "not safe".

*NO CHARGES HAVE BEEN FILED ON WOOD. ACSO IS NOT CURRENTLY INVESTIGATING ANY CRIME INVOLVING WOOD. OFFICER SAFETY ONLY*

** USE EXTREME CAUTION **

LAW ENFORCEMENT SENSITIVE



It then lists 'Brian Steele Wood' and his photo, along with his physical description, height, weight, hair color, eye color, last known addresses, phone number, vehicles including year, make, model, and license plate number.

Below that is the 'requested patrol location' (in-laws address).

Page two of the document includes eight photographs of the in-laws home, and page three includes an aerial photo of the proerty and a map of surrounding streets and outlying areas.


On November 1, 2015, local sheriff dispatcher called Jack out to tend to an injured bull which had been hit by a car. Shortly thereafter he was shot to death by the very sheriff department which called him for help. Jack's nephew Rowdy Paradis, who was a witness, wrote that Jack was "Murdered in cold blood by trigger happy rookies gunned down at the end of his own driveway for trying to take care of his own livestock!!!!!! As their own dispatch had asked him to do I how they get the death penalty."

Jack's daughter Sarah Yantis said "My dad Jack Yantis was brutally gunned down and murdered by the Adams County deputies... My father did not receive any care, including medical care, prior to my arrival. And he was shot and left for dead like common roadkill."

Jack Yantis' widow Donna, 63-years-old, gave this account of the incident from her hospital bed. She had a heart attack upon seeing the police murder her husband.
"On Nov. 1 at approximately 7 p.m. Adams County Sheriff's Department called and told us there was a bull that got hit and they wanted us on the scene and he was mad. So we went down to check it out. I took Jack his gun so he could put the bull out of its misery. When he walked up there and was gonna put him down the officer came up and jerked him back almost off his feet. I don't know what they told him, but they just opened fire and shot him. And then they threatened me and my nephew, Rowdy Paradis, threw us on the middle of Highway 95, searched us and handcuffed us and wouldn't let us go take care of Jack."
On November 30, 2015, thirty days after Jack was killed, neither the Sheriff nor the corporate media would release the named of the two killers. This was supposedly for their safety - as if the public at large were dangerous, unstable maniacs. That is when LibertyFight.com decided to name the two sheriffs who killed Jack Yantis: Brian Wood and Cody Roland. Thirteen hours after our story went super-viral worldwide, their boss Ryan Zollman held a press conference and was forced to acknowledge their identities.
Three days after we revealed their identities, the killers went into 'damage control' mode. Brian Wood's wife MacKenzie Wood shockingly posted on Facebook that "I am very proud of both of these men!" On December 7th, Brian Wood himself posted a Facebook message defending Jack's killing, which began
"Friends, The last five weeks have been the most trying of my life. I'd elaborate, but I've come to realize I don't need to because I'm not experiencing this alone, I'm not hurting alone. You have shown me that you love me, that you trust me, and that you are hurting with me. It's pretty demoralizing to get several messages, calls, texts, and e-mails each day telling me I'm a murdering piece of _____, a baby killer, and everything in between. These people have no real clue what happened that night, but it still adds up to weigh a person down. That's why I'm so grateful for you."
I replied to Wood directly, asking, among other things, if he was some sort of psycho.

This latest revelation, that Sheriff Ryan Zollman knew all this information about Wood for months, sheds new light on just how untrustworthy Sheriff Ryan Zollman is. [See the e-mail I sent to Zollman on 11/15/15, A Few questions for Sheriff Ryan Zollman.] Just three days ago, LibertyFight reported on the extremely cavalier attitude of the Adams County Sheriff Department when the Yantis family called to report that their Justice For Jack sign had been stolen from their property: [Sheriff's Dept. Who Killed Jack Yantis Responds To Theft of 'Justice For Jack' Sign With Dismissal, Skepticism.]
Sheriff Zollman, a Republican, faces an election challenged this November by retired lawman Tom Watts, who is running for Sheriff as an Independent. His campaign website is TomWattsForAdamsCounty.com. There is also a Republican write-in candidate who will be opposing Zollman in the Republican primary. If elected in the primary, she has vowed not to run against Watts in the general election.
Multiple people in Council have reported harassment by police and fear of the two killer deputies, who to this day are on paid leave. It's been over six months since Jack Yantis was killed, and both the Idaho Attorney General and Idaho State Police have yet to release their findings on the case.
According to another one of our sources, the following information also pertains to this case:
This ATL was issued for 2 Reasons..
First was a Welfare check of Mr Brian Wood's Family to make sure He and they were okay...
Second was to make sure that Mr Brian Wood is NOT a Threat to Himself or those around Him...

In Current Law Enforcement Circles Mr Brian Wood is considered ARMED and DANGEROUS...

USE EXTREME CAUTION IF APPROACHED...AND MR BRIAN WOOD IS CONSIDERED MENTALLY UNSTABLE !!!

In the First part of 2016 Mr Brian Wood admitted himself into a VA Mental Hospital in Spokane Washington and shortly there after at his own volition checked himself OUT OF THAT FACILITY...

This is known Information with LAW ENFORCEMENT CIRCLES !!

The ATL was issued Statewide In Idaho to Warn other LAW ENFORCEMENT OFFICERS on Jan. 22, 2016...

Why was the JACK YANTIS FAMILY AND FRIENDS and the Community of Council Idaho who support JUSTICE FOR JACK not WARNED about Possible DANGER and BODILY HARM ????

If we as Citizens Threaten Verbally to shoot a Law Enforcement Officer or We as Citizens were involved in Domestic Violence with Family.. WE WOULD BE LOCKED UP AND THE KEYS THROWN AWAY AS EXAMPLES OF THE WORST KIND!!!

EVERYONE!!! Call the Adams County Sheriff Office!!!
Find out the TRUTH of what has BEEN HIDDEN FROM PUBLIC VIEW..???
Find out why a FELLOW OFFICER IS DIFFERENT THAN YOU OR I???

ASK FOR TRUTH AND JUSTICE FOR JACK YANTIS !!!
LibertyFight recieved notice several months ago from a source in Council that Wood was experiencing marital problems after allegations of infidelity on his part- specifically the allegation circulating among townsfolks was that he was cheating on his wife wth a 19 year old girl and that his wife had filed for divorce. Since we couldn't verify or cooberate that story, or find divorce records, we did not run it.
Adams County Idaho Sheriff Ryan Zollman, who is facing challengers in both the upcoming Republican primary and in the general election in November, was asked two weeks ago by the republican candidate at a public town hall meeting, the following question. Knowing what you know now about this case, would you re-hire the two deputies who killed Jack Yantis? Zollman replied with a resounding YES. At a previous town hall meeting shortly after the shooting, Zollman denied that his deputies were trained by the U.S. Department of Homeland Security, despite the fact that LibertyFight.com had published countless official records from the official Adams County meeting minutes, admitting DHS training, funding, and mandates.
So, Zollman said that he will re-hire Brian wood and Cody Roland.
Keep in mind, this is three months after Wood, according to law enforcement itself, threatened to shoot cops and had explosives, and was involved in domestic violence.

Furthermore, why was Wood not arrested or charged for domestic violence? Why was he not arrested or charged for threatening violence against police? Is it legal in Adams County, Idaho to threatent to shoot cops? That sounds like a terrorist threat to me.
Why was the Yantis family not warned about this danger?
Why were only police warned that Wood is dangerous, unstable, and that they should, quote, "use extreme caution"?
Why were the activists and loved ones in the 'Justice for Jack' group not warned about their safety?
You can view the document below. Some information, such as addresses of Wood's in-laws, has been redacted.
Stay tuned to LibertyFight.com for latest developments on this story.
Be sure to check out our Jack Yantis case archives - we have a great deal of information on this case.
Adams County Sheriff Ryan Zollman's contact info is posted here: http://www.co.adams.id.us/sheriff.html
e-mail: rzollman@co.adams.id.us
208-253-4228 ext 4160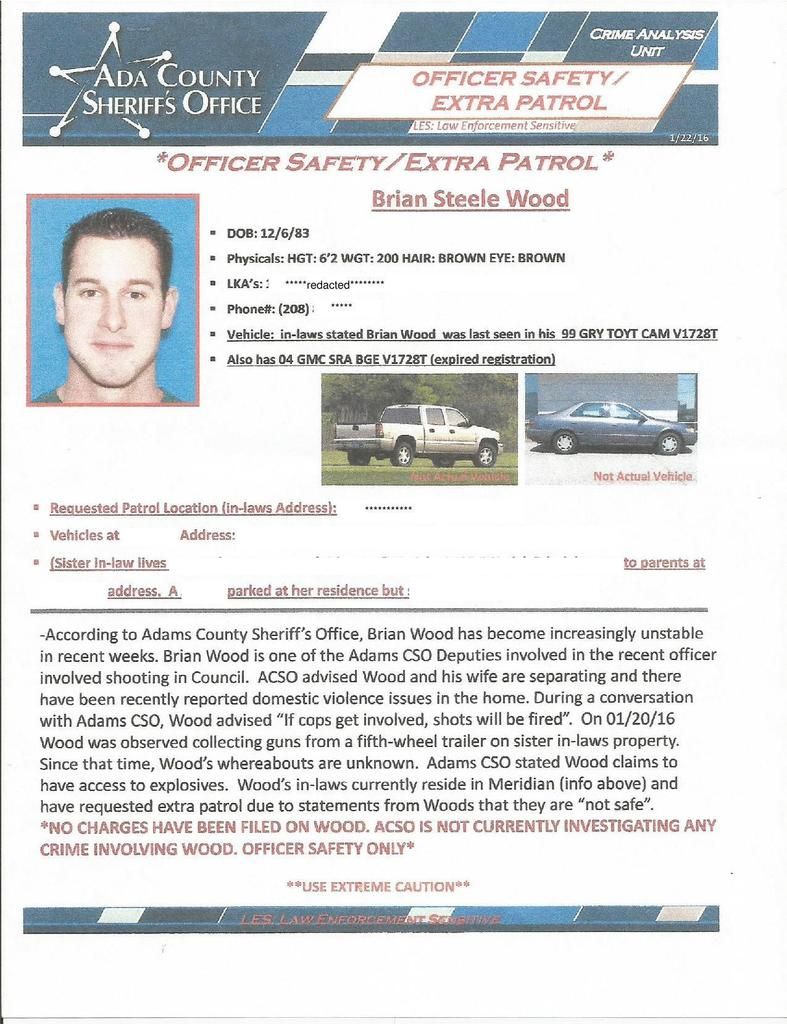 Featured Articles From LibertyFight.com:

You can find the most recent articles from LibertyFight.com here.

To get notice of the latest material you can follow LibertyFight on Twitter or contact me to join our e-mail list.

NOTE: The 'DISQUS' feature has been added to this site so you can leave your comments below. No login is required, you can post as a guest.

[WRH Link:




RECENT FROM LibertyFight.com:

Front-Row Protester Disrupts Trump's Michigan Speech with "ISRAEL DID 9/11! FIVE JEWS ARRESTED ON 9/11 IN NEW JERSEY, NOT MUSLIMS." Donald Trump Responds To "ISRAEL DID 9/11" Protester With "He's A Trump Guy, He's very committed, Got a lot of energy, He's on our side" (!!!)



Trump's Response To "Israel Did 9/11" Front-Row Heckler Is Almost More Interesting Than The Heckle Itself TV News Footage Of Martin Hill Being Escorted Out By Secret Service While Trump Stops His Speech To Watch & Repeatedly Tells Them "Don't Hurt Him, Be Very Nice..."

HERE IS THE CLOSE-UP VERSION. GO TO MINUTE 20. Trump says that the "Israel Did 9/11' Protester is "A Trump Guy, He's On Our Side, He's Very Committed, he's Got a lot of energy."



Here is the wide-shot footage from the back of the room. If you watch starting at around minute 20, That's when I interrupt him, and he responds to me. Then a few minutes later, he stops his speech again to watch the Secret Service take me out, and he is referring to me when he says: [21:18] Oh! Don't hurt him. Don't hurt him. Be very nice. Be very nice. Yep. Be nice to him. Don't hurt him. See how nice I'm being? I'm only doing it for them, you know that (points to the media) Don't hurt him! (21:34) Tell me, ... I love you too, maam.. Look. Is there more fun than a Trump rally? (21:48) Is there more fun?



RECENT:



Martin Hill is a Catholic paleoconservative and civil rights advocate. His work has been featured in the Los Angeles Daily News, San Gabriel Valley Tribune, The Orange County Register, KNBC4 TV Los Angeles, The Press Enterprise, LewRockwell.com, WhatReallyHappened.com, Infowars.com, PrisonPlanet.com, Economic Policy Journal, TargetLiberty.com, FreedomsPhoenix, Haaretz, TMZ, Veterans Today, Jonathan Turley blog, The Dr. Katherine Albrecht Show, National Motorists Association, AmericanFreePress.net, RomanCatholicReport.com, WorldNetDaily, HenryMakow.com, OverdriveOnline.com, Educate-Yourself.org, TexeMarrs.com, Dr. Kevin Barrett's Truth Jihad radio show, Strike-The-Root.com, Pasadena Weekly, ActivistPost.com, Los Angeles Catholic Lay Mission Newspaper, KFI AM 640, IamtheWitness.com, Redlands Daily Facts, SaveTheMales.ca, BlackBoxVoting, The Michael Badnarik Show, The Wayne Madsen Report, Devvy.com, Rense.com, FromTheTrenchesWorldReport.com, BeforeItsNews.com, The Contra Costa Times, Pasadena Star News, Silicon Valley Mercury News, Long Beach Press Telegram, Inland Valley Daily Bulletin, L.A. Harbor Daily Breeze, CopBlock.org, DavidIcke.com, Whittier Daily News, KCLA FM Hollywood, The Fullerton Observer, Antiwar.com, From The Trenches World Report, and many others. Archives can be found at LibertyFight.com and DontWakeMeUp.Org.
---
FAIR USE NOTICE: The above may be copyrighted material, and the use of it on LibertyFight.com may not have been specifically authorized by the copyright owner. Such material is made available on a non-profit basis for educational and discussion purposes only. We believe this constitutes a 'fair use' of any such copyrighted material as provided for in 17 USC S. 107. For more information go to: http://www.law.cornell.edu/uscode/17/107.shtml. If you wish to use copyrighted material from this site for purposes of your own that go beyond 'fair use', you must obtain permission from the copyright owner.

You can follow LibertyFight.com on Twitter and re-tweet this article here.


comments powered by