and the Justice For Jack! Facebook Page


Concerned locals in Idaho have posted pictures of a charter school student project which demonizes Colonial Christians as "liars, deceitful and self-centered."

One local wrote,
"Thomas Jefferson Charter School in Caldwell, Idaho displays this student project, which characterizes American colonial Christians as "liars, deceitful and self-centered." You have to wonder whether this "libertarian" charter school excels more at brainwashing than other public schools. #Americanunhistory."
The project has been displayed for some time in a prominent spot for all visitors and attendees to see.
The shocking display of anti-American propaganda, written in blood-red felt pen, continues by characterizing all Native Americans as "fair, honest, peaceful."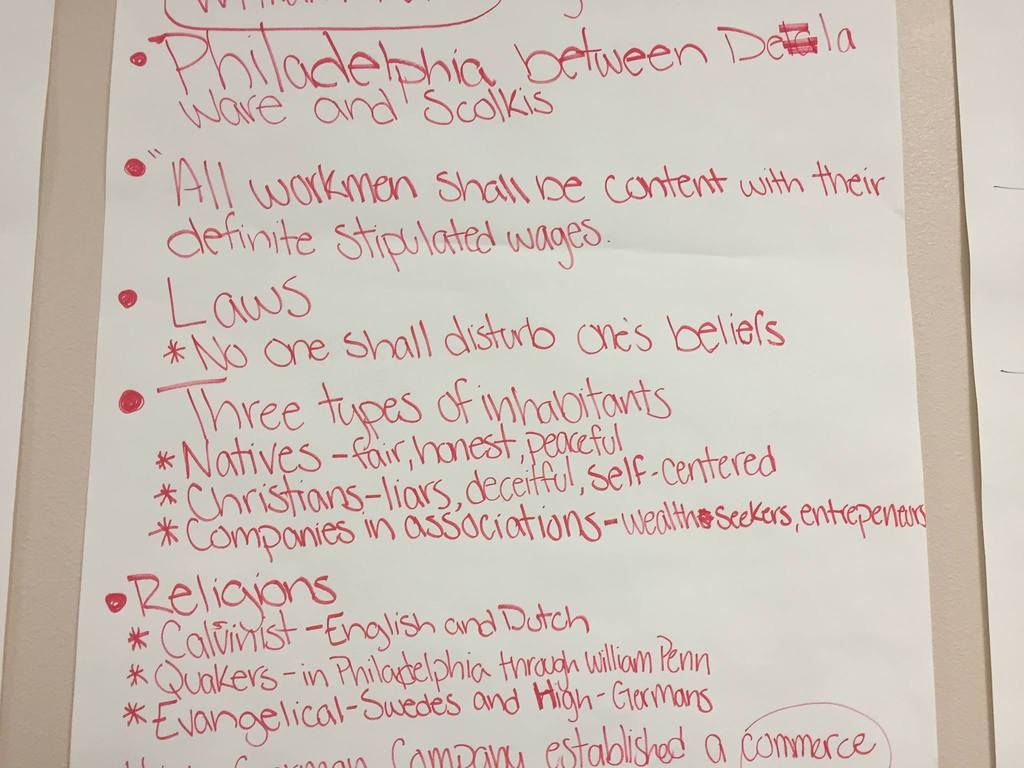 Another observer who took a photograph noted that "The project includes posters for each state, and that "This poster was posted on the high school side... based on past conversations and events... it is not the first time things like this have been said or posted."

The school's website TJCS.org states "Home of the Patriots! It is our mission to develop Virtuous Citizen Leaders."
The website also includes a 'Best High Schools' Silver award from U.S. Mews and World Report logo, dated 2012.
At time of publication, the school had not replied to LibertyFight.com's query about the school project that refers to Colonial Christians as "Liars, deceitful and self-centered."
The school claims scholastic success, reporting that their student college readiness scores based on the ACT test place the school's students in a higher-scoring category than Idaho's other students in the subjects of English, reading, math and science. They also note that "50% of our concurrent Chemistry students scored in the top quartile in the nation on the American Chemical Society Exam, given to college freshman Chemistry students."
The school's Board of Directors holds a public meeting on the first Tuseday of each month and they outline their Public Input at Meetings rules here. Matt Dorsey is the Board Chairman. Other members include Mike Provost, Vice Chairman; Keri Sigman, Isaac Marler, Sean Upson, and Renee DeHaas. Their contact info is here.
The school's general contact info is here:
Thomas Jefferson Charter School
1209 Adam Smith Ave. Caldwell, ID 83605
208-455-8772
Email: tjcs@vallivue.org.

Here is another version of the photo with the full poster, which a local sent to us.

Featured Articles From LibertyFight.com:

You can find the most recent articles from LibertyFight.com here.

To get notice of the latest material you can follow LibertyFight on Twitter or contact me to join our e-mail list.

NOTE: The 'DISQUS' feature has been added to this site so you can leave your comments below. No login is required, you can post as a guest.




RECENT FROM LibertyFight.com:

Front-Row Protester Disrupts Trump's Michigan Speech with "ISRAEL DID 9/11! FIVE JEWS ARRESTED ON 9/11 IN NEW JERSEY, NOT MUSLIMS." Donald Trump Responds To "ISRAEL DID 9/11" Protester With "He's A Trump Guy, He's very committed, Got a lot of energy, He's on our side" (!!!)



Trump's Response To "Israel Did 9/11" Front-Row Heckler Is Almost More Interesting Than The Heckle Itself TV News Footage Of Martin Hill Being Escorted Out By Secret Service While Trump Stops His Speech To Watch & Repeatedly Tells Them "Don't Hurt Him, Be Very Nice..."

HERE IS THE CLOSE-UP VERSION. GO TO MINUTE 20. Trump says that the "Israel Did 9/11' Protester is "A Trump Guy, He's On Our Side, He's Very Committed, he's Got a lot of energy."



Here is the wide-shot footage from the back of the room. If you watch starting at around minute 20, That's when I interrupt him, and he responds to me. Then a few minutes later, he stops his speech again to watch the Secret Service take me out, and he is referring to me when he says: [21:18] Oh! Don't hurt him. Don't hurt him. Be very nice. Be very nice. Yep. Be nice to him. Don't hurt him. See how nice I'm being? I'm only doing it for them, you know that (points to the media) Don't hurt him! (21:34) Tell me, ... I love you too, maam.. Look. Is there more fun than a Trump rally? (21:48) Is there more fun?



Misc:



Martin Hill is a Catholic paleoconservative and civil rights advocate. His work has been featured in the Los Angeles Daily News, San Gabriel Valley Tribune, The Orange County Register, KNBC4 TV Los Angeles, The Press Enterprise, LewRockwell.com, WhatReallyHappened.com, Infowars.com, PrisonPlanet.com, Economic Policy Journal, TargetLiberty.com, FreedomsPhoenix, Haaretz, TMZ, Veterans Today, Jonathan Turley blog, The Dr. Katherine Albrecht Show, National Motorists Association, AmericanFreePress.net, RomanCatholicReport.com, WorldNetDaily, HenryMakow.com, OverdriveOnline.com, Educate-Yourself.org, TexeMarrs.com, Dr. Kevin Barrett's Truth Jihad radio show, Strike-The-Root.com, Pasadena Weekly, ActivistPost.com, Los Angeles Catholic Lay Mission Newspaper, KFI AM 640, IamtheWitness.com, Redlands Daily Facts, SaveTheMales.ca, BlackBoxVoting, The Michael Badnarik Show, The Wayne Madsen Report, Devvy.com, Rense.com, FromTheTrenchesWorldReport.com, BeforeItsNews.com, The Contra Costa Times, Pasadena Star News, Silicon Valley Mercury News, Long Beach Press Telegram, Inland Valley Daily Bulletin, L.A. Harbor Daily Breeze, CopBlock.org, DavidIcke.com, Whittier Daily News, KCLA FM Hollywood, The Fullerton Observer, Antiwar.com, From The Trenches World Report, and many others. Archives can be found at LibertyFight.com and DontWakeMeUp.Org.
---
FAIR USE NOTICE: The above may be copyrighted material, and the use of it on LibertyFight.com may not have been specifically authorized by the copyright owner. Such material is made available on a non-profit basis for educational and discussion purposes only. We believe this constitutes a 'fair use' of any such copyrighted material as provided for in 17 USC S. 107. For more information go to: http://www.law.cornell.edu/uscode/17/107.shtml. If you wish to use copyrighted material from this site for purposes of your own that go beyond 'fair use', you must obtain permission from the copyright owner.

You can follow LibertyFight.com on Twitter and re-tweet this article here.


comments powered by