U.S. Senate and House of Representatives Visit RandPaulZionist.com
By Martin Hill
LibertyFight.com










Rest assured that this site will have an impact. I know it is not a pretty website, basically it's a white sheet of paper with content on it. It's the content that matters. My site is visited by government agencies daily and by the U.S. Congress, Senate, U.S. Secretary of State, Department of Homeland Security, and even the Executive Office of the U.S. President, and countless other federal, state, and local government agencies, legislators, and law enforcement. In addition, groups such as the Council of the European Union, the International Criminal Court, and the United Nations have visited and read my exposes on various matters. Corporate media, prestigious universities, & Fortune 100 companies visit daily. I use statcounter.com to gauge traffic and have records of all this. This is not to 'brag,' but rather to emphasize that we in the independent media who aren't 'bought off' can have a impact on political opinion in the public realm. Just today the New York Times visited my site. The battle of ideas is an important one, and we can use the internet to promote our ideas and tell the truth about all the evil that our government does, so that people will stop falling for the lies, the Zionist propaganda, the financial ponzi schemes, and the wars of the criminal Zionist international banksters. Not to mention the false-flag ZIONISTS who have attempted to take over every single aspect of our society.

RandPaulZionist.com is going to keep a VERY close watch on Zionist stooge Rand Paul and his presidential aspirations. Rest assured that Rand Paul will see this site and will see your comments.

I wrote an article on Rand Paul when he told whites not to have kids, and the U.S. Senate visited my article that day (screenshot here.)

The U.S. Senate visited my article Ron Paul on 9/11 conspiracies (in chronological order( [screenshot here]

The 'mysterious person' in the Senate (har har) has also visited many other Ron/Rand articles including here, when the official U.S. Senate ISP visited my main page at LibertyFight.com:

The pervs in Congress visited last week too, [screenshot here.]

The New York Times peeked at my site yesterday, [screenshot here.]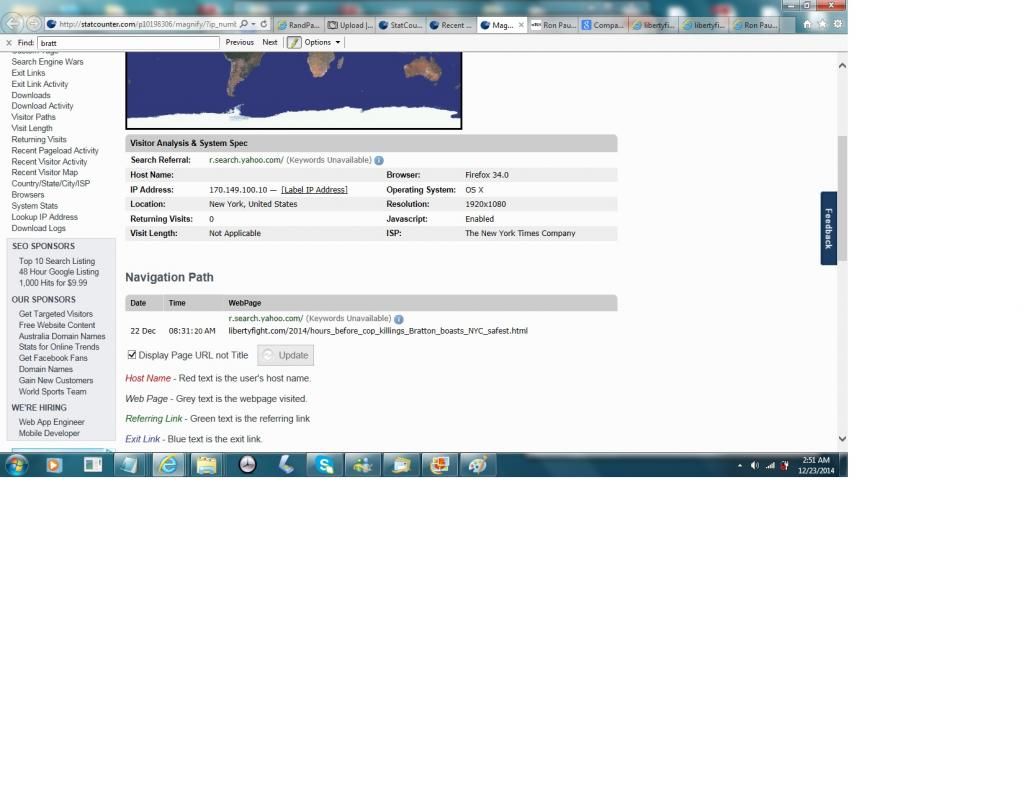 And the State of New York was reading my expose about pervert freemason NYPD Chief William Bratton [screenshot here.]

There are thousands of other examples but that is just a tiny sampling.
If you would like to suggest links for this site, would like to contribute an article for submission, or would like to join the mailing list, you can e-mail us at [info (at) RandPaulZionist (dot) com.] We will not share, spam, or your sell your information with anyone. Or, you can post comments and links in the Disqus section below, at the very bottom of this page. You don't have to log in, you can post as a guest. Please share this webpage if you find the RandPaulZIONIST.com collection worthwhile and check in here periodically for updates. You can also follow us on Twitter , Facebook, and Google plus:
You can follow LibertyFight.com on Twitter and re-tweet this article here.

Martin Hill is a Catholic paleoconservative and civil rights advocate. His work has been featured in the Los Angeles Daily News, San Gabriel Valley Tribune, The Orange County Register, KNBC4 TV Los Angeles, The Press Enterprise, LewRockwell.com, WhatReallyHappened.com, Infowars.com, PrisonPlanet.com, Economic Policy Journal, TargetLiberty.com, FreedomsPhoenix, Haaretz, TMZ, Veterans Today, Jonathan Turley blog, The Dr. Katherine Albrecht Show, National Motorists Association, AmericanFreePress.net, RomanCatholicReport.com, WorldNetDaily, HenryMakow.com, OverdriveOnline.com, Educate-Yourself.org, TexeMarrs.com, Dr. Kevin Barrett's Truth Jihad radio show, Strike-The-Root.com, Pasadena Weekly, ActivistPost.com, Los Angeles Catholic Lay Mission Newspaper, KFI AM 640, IamtheWitness.com, Redlands Daily Facts, SaveTheMales.ca, BlackBoxVoting, The Michael Badnarik Show, The Wayne Madsen Report, Devvy.com, Rense.com, FromTheTrenchesWorldReport.com, BeforeItsNews.com, The Contra Costa Times, Pasadena Star News, Silicon Valley Mercury News, Long Beach Press Telegram, Inland Valley Daily Bulletin, L.A. Harbor Daily Breeze, CopBlock.org, DavidIcke.com, Whittier Daily News, KCLA FM Hollywood, The Fullerton Observer, Antiwar.com, From The Trenches World Report, and many others. Archives can be found at LibertyFight.com and DontWakeMeUp.Org.